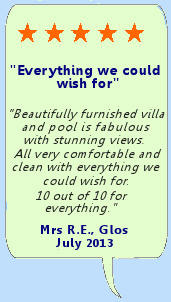 Jasmine Villa
ESENTEPE
NORTHERN CYPRUS





VILLA AMENITIES

The villa is well furnished with the aim of providing hirers with most of the items they would expect in their own homes, including ample cutlery, crockery, cooking utensils, and glassware. In addition to the furnishings and other items shown on the Accommodation page, the villa includes the following:

GENERAL

Electric oven (with grill)
Gas/Electric hob
Fridge/Freezer
Dishwasher
Microwave oven
Washing Machine
Electric Kettle (2)
Toasters (2 and 4 slice)
Electric Hand Blender
Sandwich Maker
Wine cooler
Substantial crockery & glassware
kitchen timer
Tea towels
Solar water heating
Immersion heater (with 15/30/60 minute timer)
Air-conditioning (cold/warm)
Fan (floor standing)
Fan (kitchen worktop)
Electricity failure/night lights
Emergency LED lanterns
Fire Blanket (in kitchen) for fat fires
Fire Extinguisher for electrical & fuel fires
Blackout blinds in all bedrooms

Vacuum Cleaner
Steam Iron & Ironing board
Airer
Hair dryers (2)
Safe & lockable fixed security box
Bed linen
Pillows - standard or memory foam
Mattress and pillow protectors
Hand & bath towels (but not beach towels)
Mirrors in all bedrooms & bathrooms
Coathangers
Smoke alarms (2)
Carbon Monoxide Alarm
First aid kit
Indoor games
Books (approx 40)
DVD player & DVDs (for all ages - over 140)
Internet TV (IPTV) box with 40+ UK channels
iPod/iPhone speaker/charger (iFlute)
Bluetooth USB speaker
13 amp UK electric sockets throughout
2 x 13 amp bedroom sockets with USB chargers (5v 1A)
Free Wi-Fi internet access

OUTSIDE

Pool (8m x 4m)
Terrace lounger suite & cantilever parasol
Terrace dining suite with 6 chairs
Sunloungers (14) & unbrellas (6)
3-seater swing seat
Wall seat and cushions
Outside taps (2) with hose. Electric socket
Garden Shower

Patio chairs (6)
Patio table
Clothes line
BBQ
Outside games
Parking for up to 4 cars
Car washing brush and hose reel

CHILDREN SPECIFIC EQUIPMENT / FACILITIES

Travel cots (2)
Cot sheets
Cot blankets
Mosquito nets (2)
Changing mat
Potty
Baby bather
Toddler step
Microwave steriliser
Electric Hand Blender
Kids' bowl/plates/cutlery
Bibs
High chair
Outdoor kids' chairs

Tricycle
Car seat (up to 13kg)
KiddyGuard Safety Gates (top & bottom of stairs)
Baby monitors (2)
Kids' bed rails
Plug-in night lights
Dimmer switches
Plug protectors
Window opening restrictors
Kitchen cupboard opening preventors
Play tent and play mats
Kids' toys, books & DVDs
Roman steps into shallow end of pool with grab rail
Pool inflatables (including 1 for baby/toddler)

The property is gated and is surrounded by walling and railings. The road immediately outside the villa only leads to just one other property with no through traffic.

Notwithstanding the safety features we have incorporated, we cannot stress enough that pool areas are dangerous and it is parents' responsibility to ensure that their children are supervised at all times in and around the villa and especially in the pool area which may also become slippery when wet. Hirers should not rely on any safety devices we have installed which should be regarded as secondary measures. We cannot accept any liability for any accidents which may occur.
---
Esentepe - Your perfect holiday location
© J&HD, 2010 - present
---